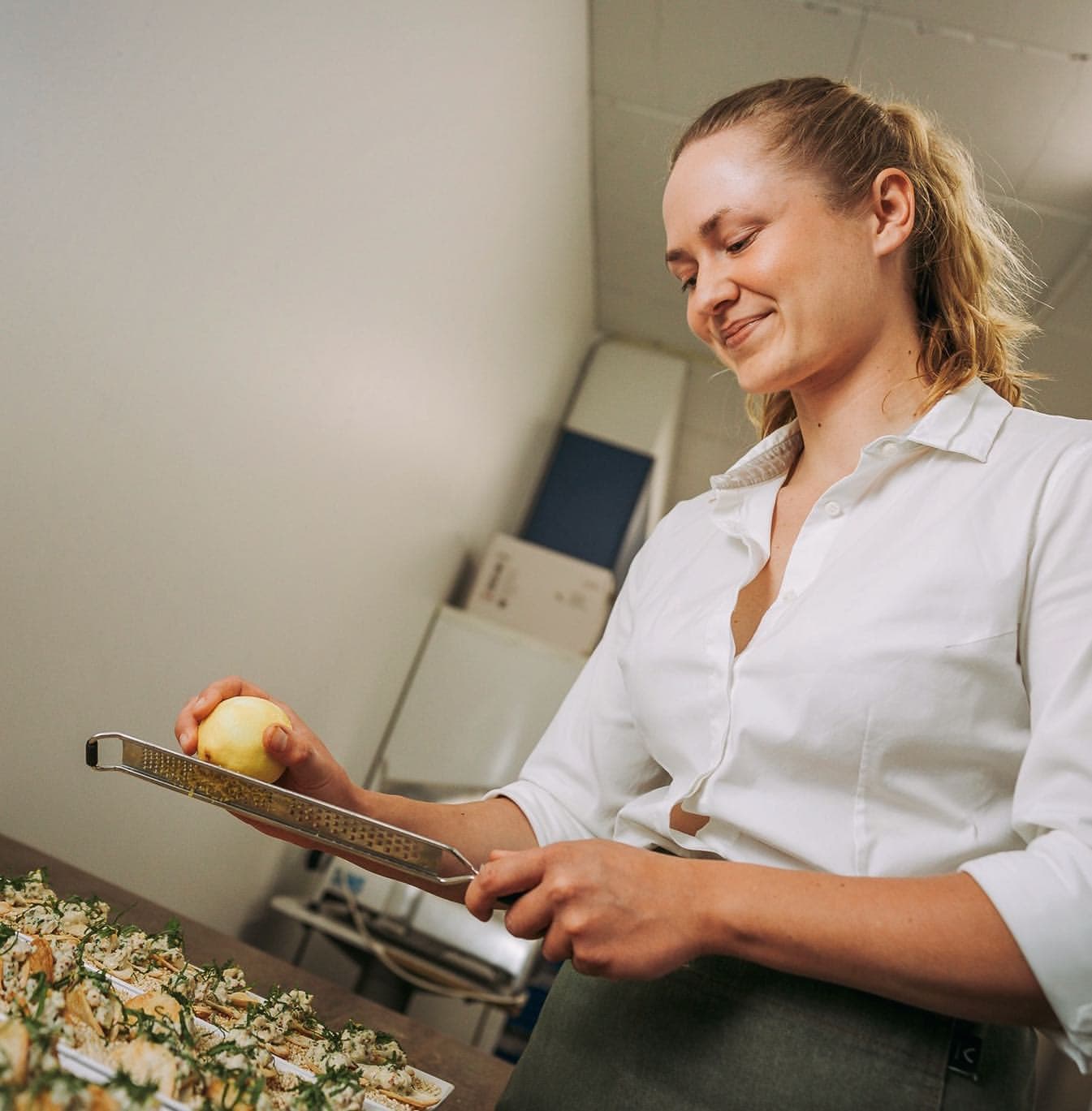 Preparation
Chef Sophie Nievelstein will arrive 1 hour in advance of your event
Extras
Special tableware, rings that need to be hidden. Anything goes.
Clean
Your kitchen will be left cleaner than it was when Chef Sophie Nievelstein arrived.
About Chef Sophie Nievelstein
She could barely walk and the kitchen was already immediately her domain. Dirty hands? Sophie didn't care, as long as she could be busy eating. And that has never changed!
She gained her know-how from various (star) chefs, including Peter Goossens. After four years of internships in Germany, she decided to make her hobby her profession, back to her own roots. With at Sophie's she brings it all to your table.
Sophie will come to your home to cook with all the love and pleasure. And what's on the menu? A carefree and culinary afternoon or evening.
Sophie has no lack of vision. The future looks bright in that respect: a farm with its own Bed & Breakfast, and a restaurant where she can continue her activities as a home cook. With this mindset, she is already in life. The delicious seasonal dishes are prepared with regional products. Everything is watched, inspected and tasted by Sophie, because for her guests she wants only the very best. The 24-year-old chef from Maaseik also describes her style as grandmother's cooking with a twist, a cuisine in which pure and h'honest food are central. She finds it important that her guests sit at the end of the menu with a well-filled stomach. But most of all, she hopes she creates a memorable day: one that will be remembered for a long time.
Impressions
Things you should know
Health and Safety
Insured when using the platform
Cancellation Policy
Free cancellation for 7 days before the event. Review the Host's full cancellation policy which applies even if you cancel for illness or disruptions caused by COVID-19.
Other chefs like Chef Sophie Nievelstein