Costs of a cook at home
How much does a private chef cost?
At ChefMaison, you'll work together with the private chef to create your own menu and determine the associated costs. We believe that's the most fun part of booking a private chef - being able to create your own customized menu. In consultation with the chef, you can choose a vegetarian, fish, or meat menu, or perhaps a combination menu. Due to the endless variety of dishes available, it's not possible to capture the costs in a standard price. At ChefMaison, prices range from €50 to €300 per person, depending on the dishes, group size, and level of the private chef.
At ChefMaison, you can easily filter the chefs based on your preferences. So, there's always a chef that's a good fit for you. If you're having trouble choosing a chef, no problem! Through a general request, you can contact multiple chefs at once and choose the one that best fits your needs.
Don't worry, everything is taken care of by the private chef. One of the wonderful advantages of having a private chef is that you can fully focus on your guests and not be left with the washing up. After dinner, the chef always cleans the kitchen! And how wonderful is it that you can just sit at the table during dinner and stay out of the kitchen? The chef brings their own pots and pans and, if desired, also tableware, glasses, and table decorations. The chefs do everything they can to provide you and your party with a great culinary experience.
Enjoy Chefmaison and the delicious experiences it brings!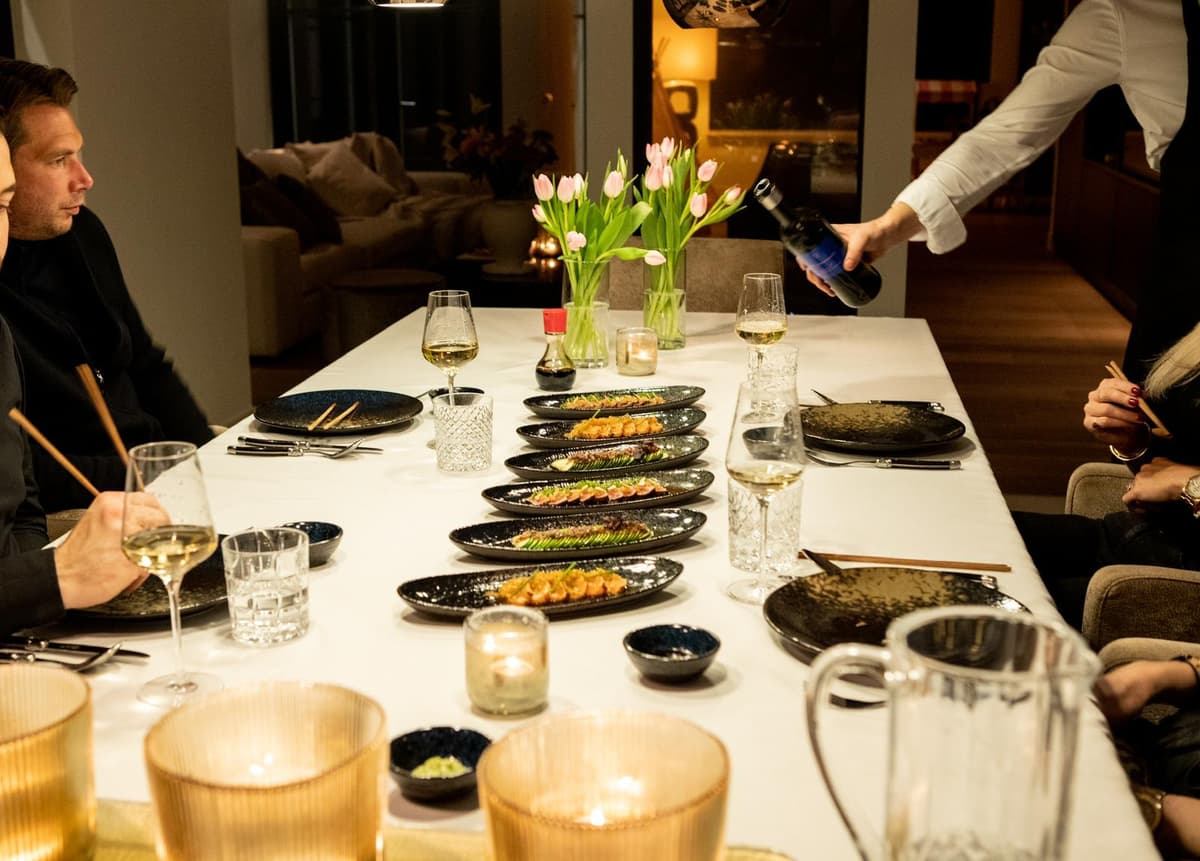 Here's how to book a private chef:
Stap 1: Rondkijken
Great that you're taking a look! To easily and quickly find the right chef, you can use our search engine. You can filter by type of cuisine, price, location, and availability. Once you've found a suitable private chef or home cook, you can save the Chef as your favorite.
Step 2: Chat with the chef
Do you have allergies or dietary preferences? Do you have special requests that you want to discuss with the chef? Through ChefMaison, it's possible to arrange the details via a chat with the chef, with notifications via WhatsApp. This way, you can quickly and easily create a custom dinner with your private chef.
Step 3: Confirm your reservation
Once you've discussed all the details with the chef, you'll receive a confirmation via chat and WhatsApp. Here you'll find the custom menu and all the information regarding your dinner. You can always cancel or modify your reservation up to 7 days in advance, more information can be found here.
Step 4: Enjoy your meal!
Your booking is confirmed. If you need tips or advice, or have a question that comes to mind, feel free to contact your Chef via the app. If you need help with anything else, you can always contact ChefMaison.